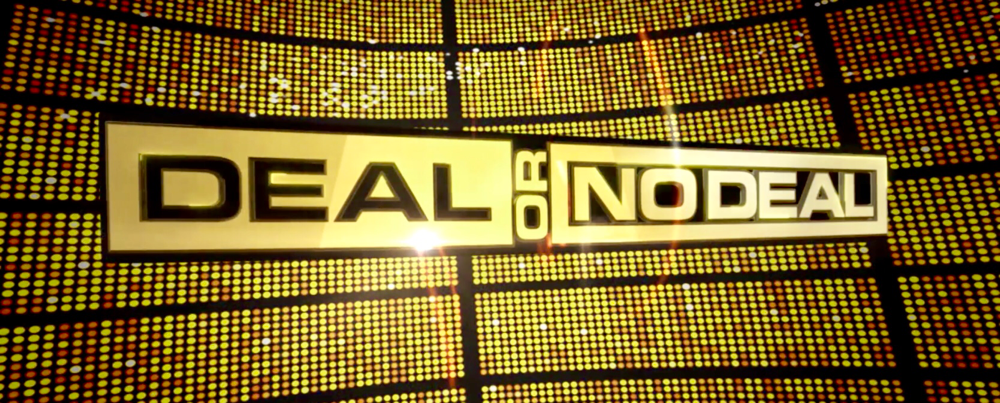 32 Days — it felt sort of surreal that all this was over when I embarked the plane at the airport
in Orlando to fly back to Miami. All this laughter with the girls, all the foot cramps, all the exciting hours on stage and the beautiful moments with the contestants — over. Deal or No Deal 2.0 Season 1 was over now, and this made me wistful. But let's rewind to the beginning.
The Audition
Everything started with this one email from May 18th which my model agent Lyndzee had sent
me. It was a casting invite for a game show which would be held at Marquee Casting here in
Miami. When I read through the email, I realized that this audition would be for the popular
game show I used to watch back in Germany when I was a child! It was Deal or No Deal which
is actually a Dutch game show concept that got distributed all over the world. I remembered
how I was sitting in front of the TV watching the German version of it. Anyhow, I was more than excited to go to the audition on the following Monday. 
I was walking through my closet, thinking about what to wear. Finally, I selected an emerald green velvet dress and nude heels. My audition started at 2:20 PM. As always, the waiting room at Marquee was pretty crowded. In the meantime, I had the chance to fill out a questionnaire that would be used for my casting. Questions such as:
"Where are you from?", "What one word best describes you?" or "What's the most unusual thing about your hometown?"  
After a while, my casting started. I had to walk from one corner of the room towards the camera, introduce myself, show my profiles and hands. Afterward, the interview started. I just talked and talked. I told the casting director about my hometown, Berlin, my Ph.D. candidacy in Cultural Studies, that I had won the Miss Germany beauty pageant in 2010, and that I had recently moved to the U.S. for love and so on. Eventually, I had to open the case with various facial expressions. And then, I was done!
The Callback
The callback was supposed to be a week after the casting, but nothing happened! The agency didn't hear anything regarding a callback, which made me think I was out. But two weeks later I received a much-anticipated phone call from Lyndzee. I had just landed in NYC when I heard that the callback would be taking place on the upcoming Monday in Miami. Of course, I was panicking! I didn't know at this point that the 22,000 girls who were cast in L.A., Miami, Orlando, and NYC were reduced to about 200 girls for the approaching callback – and I was one of them! But I was in NYC. How would I get back to Miami? Was it worth cancelingpricey hotels and cutting the trip short (it was intended to be my birthday trip) in order to make it to the callback in Miami?
At long last, I couldn't believe my luck – and relief – when the message arrived that there would be a New York callback the day after Miami. Though I hadn't packed the ideal casting outfit (since this was a leisure trip), at least I had brought a pair of plain black heels and a simple black dress.  In between sightseeing and enjoying the city's cuisine, my boyfriend accompanied me to this important appointment at One on One casting in Manhattan on June 6th.
This callback was different from the first casting. The entire production team of DOND was sitting behind the camera, whereas in the first casting only two people were in the room. I have to admit, I got a little nervous. And then I had a long interview. One of the head producers, Mashawn, asked me tons of questions. I simply repeated what I had said in my first casting and told them that I obviously love to travel and to meet new people. I added that we had just visited the Museum of Immigration on Ellis Island and I talked about the similarities and differences to my hometown, Berlin etc.
A weight lifted when the interview was over. I felt I was authentic and tried to show them my numerous facets, and believed I had performed well. But it wasn't over! This had only been part one. For part two I had to wait for two more girls to walk in with me. Now, I had to walk from one corner towards the camera, with the other two girls in one row and pose at the end in front of the camera. I remembered that I was the first one to introduce myself once we reached the camera. I simply said: Hi, I am Anne Julia! The other two girls behaved more formally, saying their first and surnames.
The Fittings
I succeeded in the callback and six days later had an initial offer or "option" for the job. I was so happy but also insecure. Would I really get my first big job as a model in the U.S.? A week later I received an urgent call from my agent: we had to fly to Los Angeles, today! It was the first fitting for the show. All clothes had to be altered so they would fit each particular body type. I was confused since none of us had been officially confirmed for the show at this point. Nonetheless, three more fittings and three more red-eye flights followed until we finally received the good news. On June 29th I officially got booked! I was so unbelievably happy!
Week 1 — Getting into the Groove
The real journey started on a Monday. We landed in the early evening in Orlando, where my fellow model, Vaeda, and I were picked up in a black SUV. Our friendly driver dropped us at our hotel at Universal Resort, and the staff determined pretty quickly that we were DOND girls. I was delighted when I stepped into my spacious room on the 7th floor, my home for more than a month of filming. The big window provided a nice view of the pool area and the surrounding black-out curtains also would become important for the end of our stay… but let's start with the first week.
The first week was all about experimenting and getting into the groove. On day 1 we got introduced to our hair and makeup team. Wendi, the lead makeup person and someone very experienced in makeup for TV, had been a part of DOND from the beginning. And since this was a relaunch of this successful tv format, everything was geared toward being bigger and better. Wendi had created looks for every one of us in advance; now we had to check if these individual looks worked for each model in person. Not only did the looks need to be approved by the producers, but also by us.  The makeup test went well, though the hair styling proved to be a little challenging, and I was one of several models who changed her hair style multiple times. The first style inspired by a red carpet, rock 'n roll look from supermodel Rose Huntington just didn't work out on me. I couldn't identify with it. The second look was curly and didn't match the tastes of the producers, who knew that we had to be happy with our hair in order to feel confident on stage. They actually ended up going with my natural straight hair style. Sometimes it's that simple. Our final looks were captured in a photo and hung on a model board in order to create the same look for every show.
After additional fittings with our lovely stylist, Dina, who is also working on AGT (America's Got Talent), we had the chance to practice playing the game backstage. We did not only practice how to open the case properly but also to understand all stages of the game, which is important since our reactions are part of the show.  For example: if the biggest amount left on the board is $300,000, it is not good for the contestant if the one picked contains $200,000. One has to pay close attention the whole time. 
Number 23
The next day, we finished up with our looks and practiced our walk on stage which was
choreographed by Tyler Matkowski. Here we received our case numbers for the very first time. I almost teared up when case number 23 was allocated to me. I would be Briefcase Model 23 for Deal or No Deal! I felt lucky, too, that I was standing at the top, which meant I didn't have to walk all the steps every time.
We had one test show, which was fun as well as necessary to ensure a smooth production process. 
That Friday and Saturday we started taping. Every show was special. Hearing Howie's "Hello Ladies," standing on our stage, the bright lights, facing this vibrant audience and connecting with the contestants and their own stories made the experience magical. I just loved walking out on stage and returning the smile I received from the contestants. As a matter of course, I cherished each of my case-opening moments which were sometimes nerve-wracking, sometimes sad, sometimes extraordinary joyful.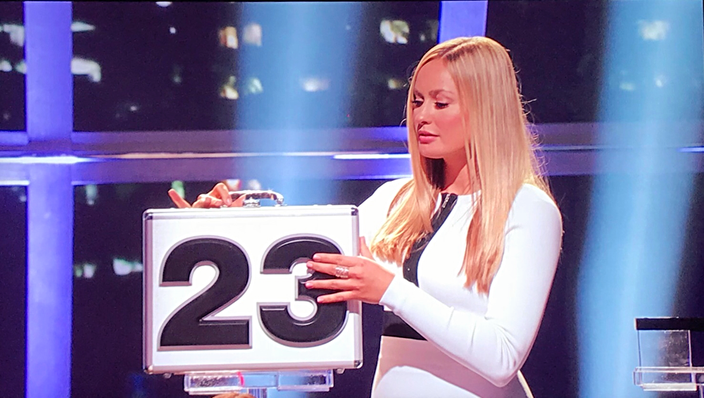 Week 2 — Foot cramps and blisters
After a break from Sunday to Tuesday, the following mornings started early — very early! Since there were more girls than hairstylists and makeup artists, some always had to wait. That's why I developed sort of a strategy to ensure I would get my spot: I would sit on the front seat of our shuttle van or even take the earlier shuttle. I really have to laugh when I think about this. But honestly, don't you want to look as great as you can, too? And since I found my favorite hairstylist, Lori, I tried to stick to her. 
After having my hair prepared for the shows, I hopped into one of the chairs from our makeup
artists, who were just amazing. When done, I would go take a nap in the "green room," the model holding area, until we had to get dressed.
Our outfits were always prepared on a hanger with our name tag. I guess it is not surprising to admit that we all had to wear Spanx underneath. Almost every woman on the red carpet is wearing shapewear by the way! After squeezing into our beloved Spanx and dresses, Dina's styling team plucked the sleeves, taped the hems to our legs and so on. Again, everything had to be perfect. DOND would be airing in HD for the first time.
Once approved, we headed to our backstage holding area where we usually waited until the show started. Here, a bevy of makeup artists, hairstylists and stylists tried to give every one of us the last finishing touches. After the first show of the day, we usually had a lunch break with the entire crew, catered by Universal. Makeup touch-ups followed after lunch as well as a change of wardrobe. Most of the time we taped three episodes each day, so we pretty much-repeated everything three times – for 30 days of filming. And I loved it! During the second week, we realized this was not going to be a holiday.
During this week I started to feel the pain of wearing high heels all day. In the beginning, I didn't need any moleskin, but to reduce the pressure on my toes, which actually can become numb after standing on stage for each episode, depending on how early one's case is picked, I definitely needed it. Lots of girls had blisters and sore legs. No wonder we all felt blessed when production offered us mini massage treatments as soon as we walked off stage! Backstage we would rest our feet, of course, and in case the masseuse was busy we would record the other girls' case opening moments and send them into our group chat. It was really thrilling to see yourself on camera and it became even more exciting once you were mic'd.
Media Day — Photoshoots and Interviews
Another exciting day was the Media Day! This gave us a little break for our feet to rest and we
enjoyed having our photos taken for the CNBC website. I liked the fact that the channel planned to focus more on the girls and that we would have a written biography, as well as interviews which the DOND fans could watch online. I was thankful to be given the opportunity to share more about my personal life, about who I am and what I do.
In our spare time on the days off, I would go to the gym since I felt terrible not being able to do the amount of sport I usually did. I would also hang out with my work besties, Katie, Kizzi, and Brenda. We would relax by the pool and try to catch some sun.  We always broke out in laughter when the sun would vanish and lightning would occur right after I finished applying my sunscreen! I never got a nice tan during that time. Luckily, we had body makeup that I used before going on stage. It gave my skin not only an even tan but also a golden glow which looked great on camera.
My very supportive boyfriend visited me in Orlando. I had organized a ticket for one of our shows so he could watch me on stage. It made me incredibly happy when I spotted him in the audience. Even though I had to work during the weekdays, he stayed. It was nice to come "home" in the evening with the knowledge that he would be waiting for me. We ordered on Postmates and on my days off we would go to the movies, eat ice cream and spend a wonderful time on Universal CityWalk together. Once I suggested grabbing some doughnuts from the popular Voodoo Doughnut, which the girls said would be delicious and so I thought we should give those a try. I was ecstatic when I saw no line in front of the store on a Saturday night, so I walked straight into it. After walking out with our pink Voodoo box, I saw the tremendously long line that started on the leftside of the store. Apparently, the guard standing in front didn't say a word when I walked confidently straight into the shop. Oh my goodness, I'm really not that type of customer - usually.
Week 3 — Our last week of taping Games
Our third week was the last week of taping.  After keeping me company for 10 days my boyfriend left; I began to realize how much I would miss him, but also how much I'd miss the girls and the show. And then came our last day of taping DOND season 1. As always, I gave everything I had on stage. I just loved to stay in the center of the top row surrounded by these beautiful girls. I became nostalgic. I remembered the first time a contestant chose my case and that overwhelming feeling that accompanied me while walking down the steps towards Howie. I was wearing a wine-red dress. It was an unforgettable moment. We took lots of group pictures and celebrated our wrap with a party the same evening. After having quickly changed, we all met at a club at CityWalk. Savory lobster tortellini and co were dished up. We all had a blast.
Universal Studios and Island of Adventures
The last free day we had during the third week was a Sunday. I had ordered two tickets for Universal Studios and Island of Adventures. My good friend Martina drove up from Fort Lauderdale to visit and to stroll through the parks with me. I was happy like a child when we entered the park. My favorite rides were the Transformer ride at Universal and the Harry Potter ride in Hogwarts at Islands of Adventures. We spent a fun day at both parks. I would return soon to Universal Park for our model walk show integrations.
Week 4 - Filming Model Walks in the Park
The next day we started with our night shifts. Once we were dressed, we started filming choreographed walks in front of hand-picked locations. It looked breathtaking on camera! Our last overnight shoot was special. Our model Summer had spearheaded collecting money in order to get our crew a treat. During our "lunch" break we all served the crew amazing milkshakes with gigantic cookies, cakes and more on top, just to say thank you. The shakes looked so good and yummy that I felt tempted to try one, but we had only ordered for our crew. What a great surprise when the crew started to bring out shakes for us too! We all laughed. What a coincidence! I was more than delighted to try the cookies and cream shake that I picked.
Anyhow, during our final shot after lunch during this last overnight shoot, I got sentimental too! I was tearing up. I stood next to Kizzi watching a short review of our past weeks — it was so touching! We all had become a little family. No wonder that I can't wait for season 2!