My friend Brenda is not only an Açaí-connoisseur but also an Açaí fanatic. Even though I had Açai bowls before, they were never as good as the ones I tried with Brenda. Once she introduced me to her favorite spots, I developed a craving for good Açaí Bowls. We would exchange addresses and names of Açaí places and debate about the taste.
However, she recently brought my attention to a blog named
earthyandy
where we found an Açaí recipe that inspired the following recipe.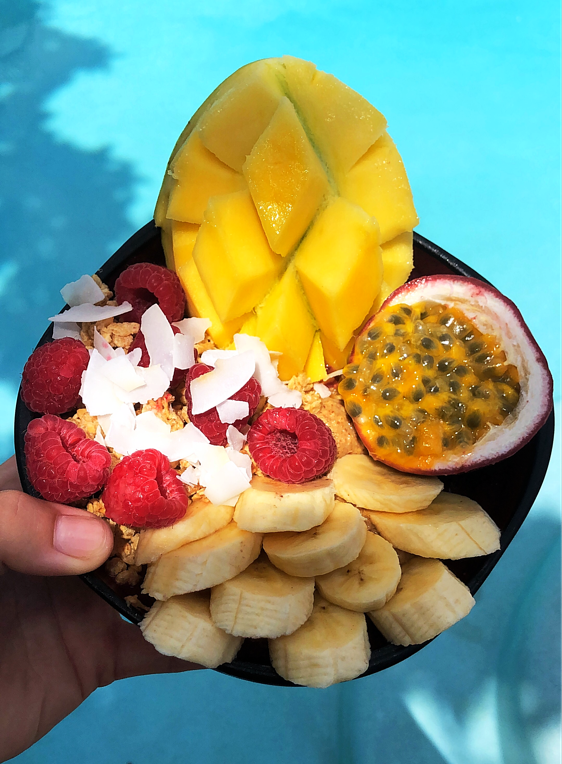 Here comes a super easy recipe for your own home-made Power Açaí Bowl.
Açaí berries are said to be a healthy and nutritious companion for our everyday life. They are believed to help our body fight against free radicals due to their high amount of antioxidants. The mentioned free radicals can damage our cells. They are said to be responsible in letting our tissue age faster and they may affect our immune system in a bad way. Since our body can not produce antioxidants on its own, we should provide it with a good load of food containing antioxidants. A delicious choice would be an Açaí Bowl for breakfast, lunch or simply as a dessert. These bowls make a yummy meal or snack anytime.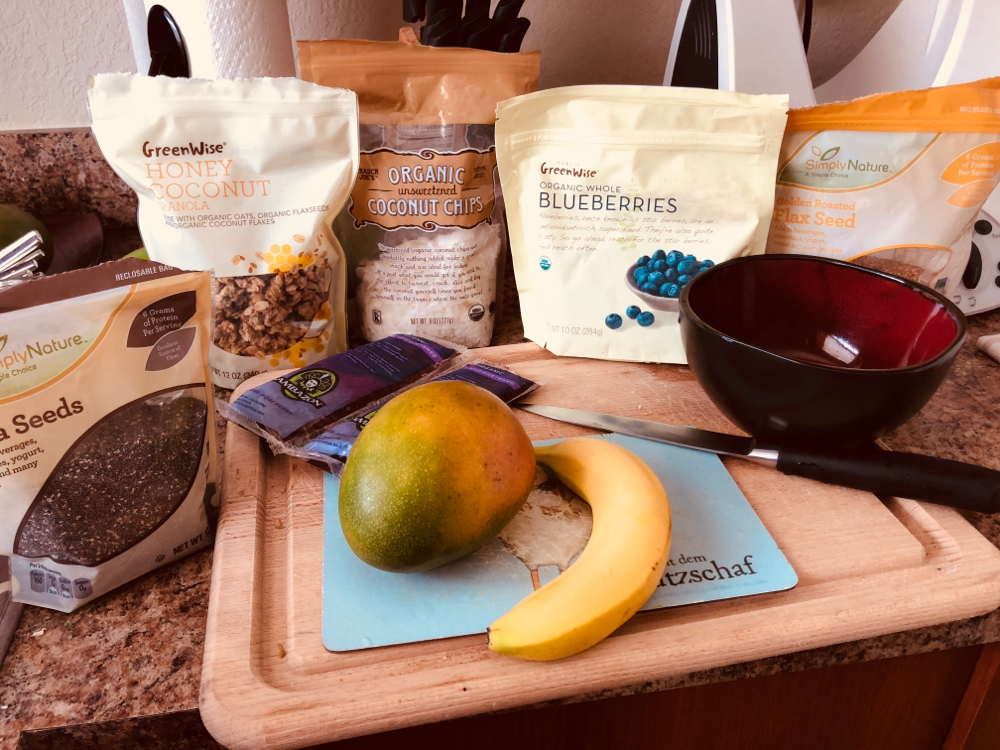 Ingredients for 1-2 persons
1 Sambazon pure unsweetened Açaí Pack 
1 cup frozen bananas
1 cup frozen blueberries 
Optional 
1/2 cup frozen mango  
1 cup frozen strawberries 
1/2 cup almond milk
1 tbsp chia seeds 
Topping possibilities 
Honey
Unsweetened coconut chips 
Raspberries 
Banana
Mango 
Almond butter 
Greek yogurt 
Passionfruit 
Blueberries 
Strawberries
Etc. 
Instructions
Take the frozen fruits and the Açaí pack and put it into the blender. I personally prefer my thermomix to blend the ingredients, since it only takes a minute. If you want a slightly more liquid texture you can add some almond milk. Blend the mixture until it is smooth. The more bananas you use the more creamy the texture becomes. You can try out your personal preference with adding or removing ingredients. If you are a person with a sweet tooth you can already poor in some honey, agave syrup or xylitol to sweeten everything. 
Once you have a creamy and smooth texture, fill in the Açai mix into bowls. 
Now add your choice of toppings and enjoy an energizing and healthy meal that tastes like a treat. 
Feel free to share your experiences and even photos of your own Açaí Bowl.