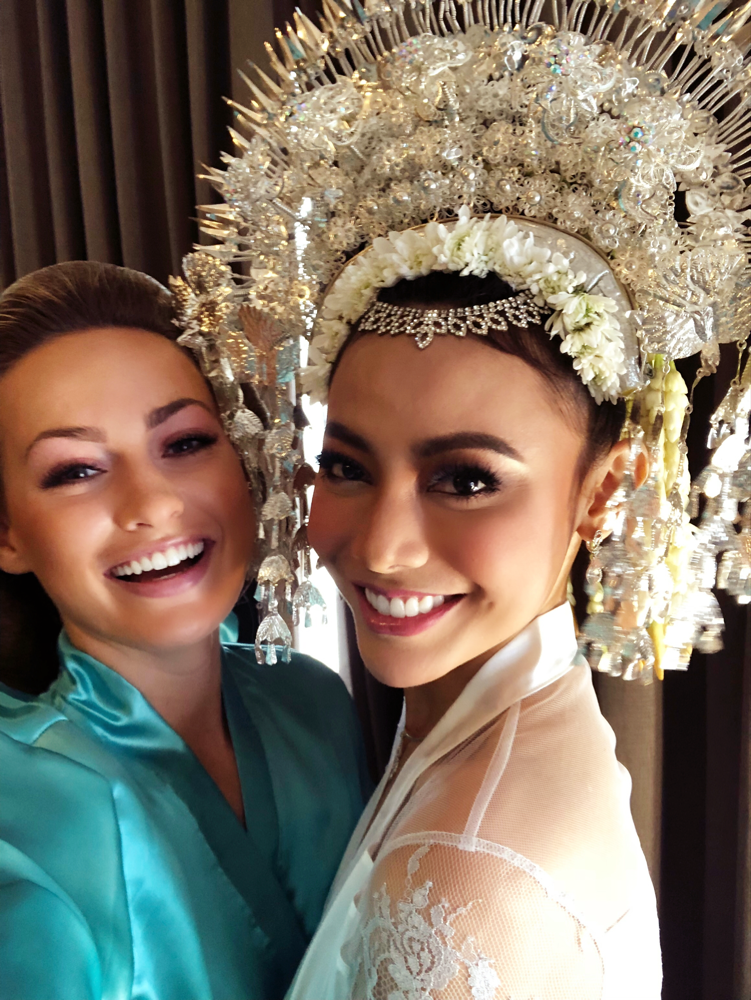 It was an exceptional feeling when I started my journey at the airport in Miami. In 35 hours I would see my dear friend Whulandary in Indonesia again. (It had been a year since we've seen each other.) Even more exciting was the fact that I would have the honor to be her bridesmaid on her special day.  
Besides, the wedding destination just looked like an Asian fairy tale! 
This exceptional feeling vanished quickly at the check-in counter of Jet Blue. 
Of course, I had my flights selected carefully. I booked the entire trip with Qatar Airways online. The reason for that was clear: If I booked the flights separately, I would have the obstacle of picking up my luggage after each stop and check it in again. My goal was to avoid the waste of time and unnecessary stress. 
However, at this check-in counter of Jet Blue I faced a rude employee telling me I was too late, so my luggage would receive a "late" tag. So in the worst case my luggage wouldn't be on this flight. When I draw her attention to the time and that arriving two hours before a flight wasn't too late, she had to agree and found out the computer system suffered an error. In addition to that, she told me I would have to pick up my bags in New York and check them in again. Right at this moment, I asked myself why I'd booked the flights with only one airline when I had to check in again anyhow? Moreover, I was confused that my itinerary didn't show these surprises, but - whatever! 
It was my first time flying with Jet Blue, so I wasn't aware of the fact that one usually has to pay for luggage since it is a "low-cost airline". This explained the "slightly" overpacked aircraft. Luckily, I had the generous benefits that applied to Qatar Airways customers which are two pieces of luggage and two hand luggage. 
Thanks to the delayed departure in Miami, the duration of the stop-over in New York JFK was ideal. Three hours to change terminals, check-in again, eat and boarding the plane without stress.
After having taken my seat on board I assessed the comfortable economy class: wide seats, plenty of room for stretching out legs, a massive variety of international movies, even German movies, pretty menu cards announcing several courses and on top of everything the food was most savory for a plane meal. 
Arriving in Doha, I had to realize that a brand-new airport with futuristic, space-shuttle-like trains and the world-famous soccer club FC Bayern München as an advertising partner doesn't matter if the WIFI is not working properly at such an expensive high-tech airport. 
Let's forget about it – from Doha, the journey continued to Jakarta, Indonesia's capital. Here I had to pick up my luggage one more time before my final flight to the wedding destination. Funny thing: after going through customs I was the very first passenger to receive the "late" tag luggage. After grabbing my belongings, I changed terminals to fly from the highly modern domestic terminal with Garuda Indonesia to my final destination: Jogjakarta. Well, from Jogjakarta city it took a roundabout two-hour drive to reach the accommodation in 
Borobudur.  My driver was awaiting me already at the exit. Whulan had been very generous in organizing transportation for me.  
After I got dropped off at my resort, I was rewarded for the exhausting and tedious trip right away. From the last step of the stairs I had to climb up to the reception, a vis-à-vis picturesque view on the Borobudur temple opened up. A UNESCO world heritage which I would visit the following day with my friends from Singapore. This world's largest Buddhist temple seemed radiant and covered the surrounding area with its inner glow, peace, and silence.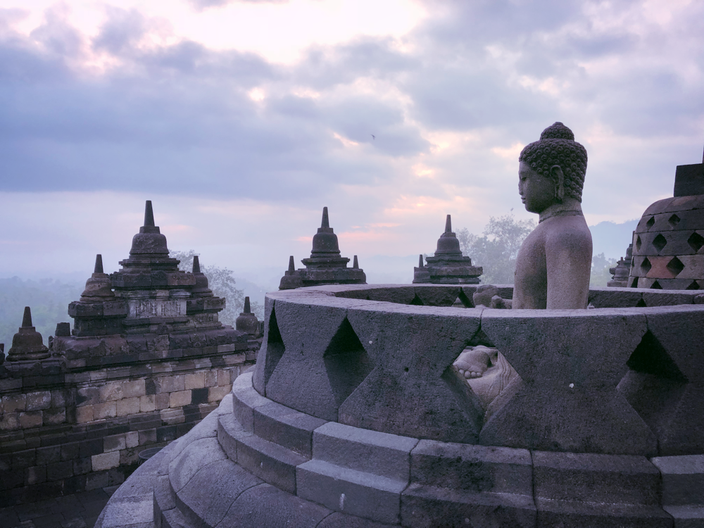 Furthermore, the resort got me enthusiastic about its countless spots with both breath-taking and splendid views into the tropical nature. Amazing places to meditate, which is why the in the early mornings offered yoga classes were much appreciated.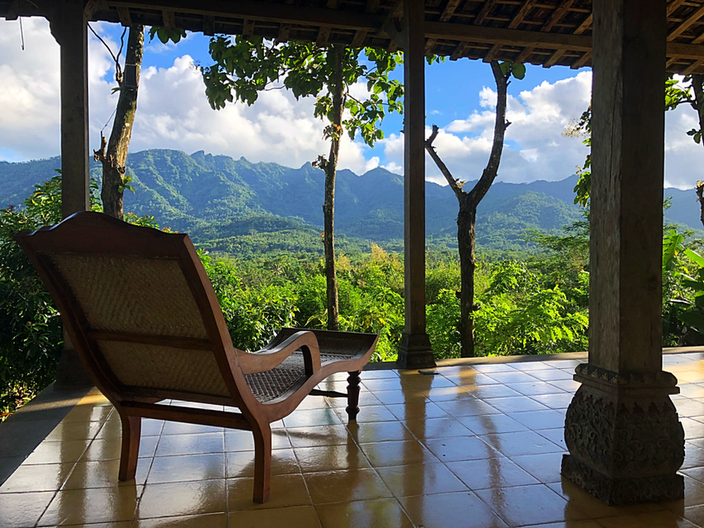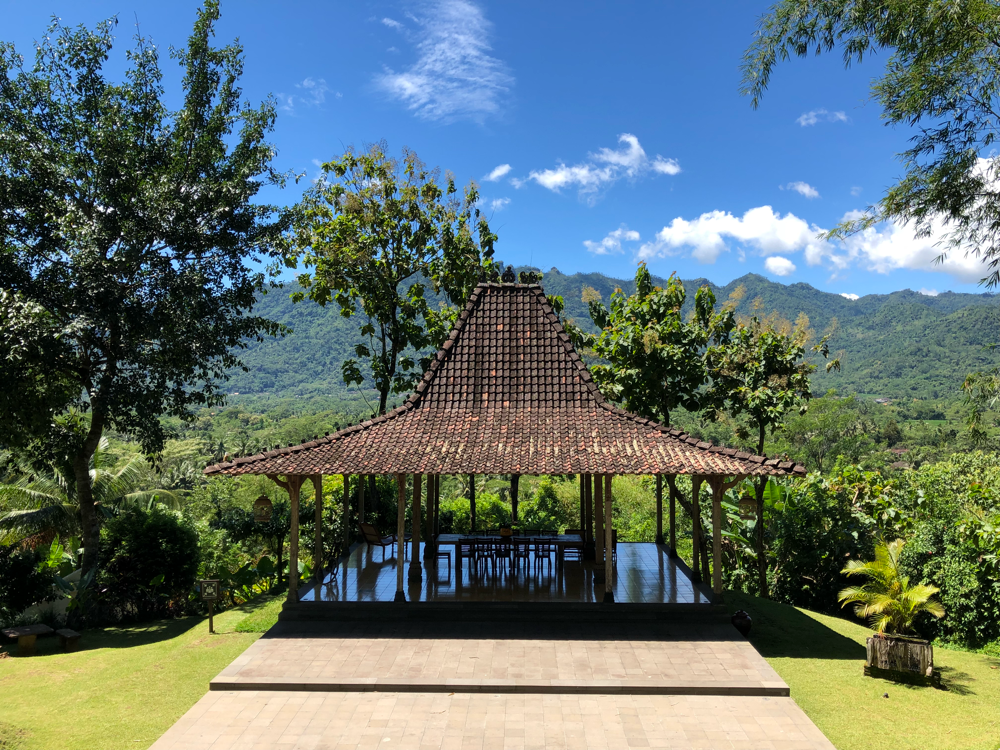 My traditional Javanese hut was delighting. Built in the lap of nature's luxury the house had a beautiful, tropical private backyard, hidden from the eyes of rubbernecks. The amenities included a jacuzzi pointing towards the jungle-like fauna as well as lounge chairs, a patio umbrella and WIFI.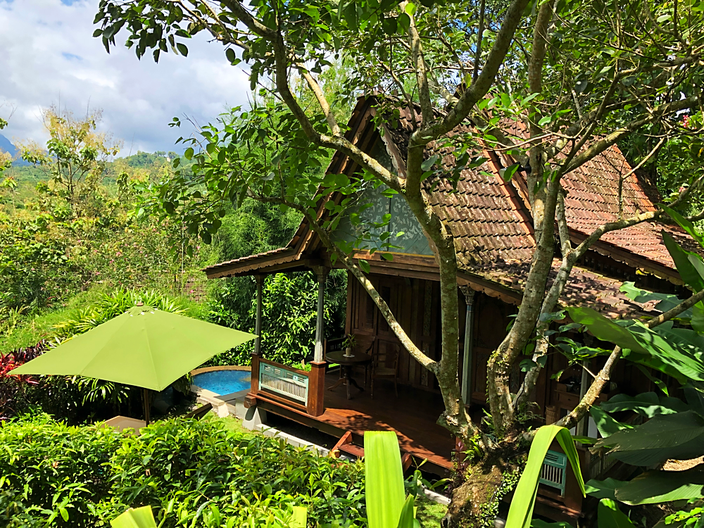 Hence, I can recommend the Plataran Borobudur Resort without any concerns to those of you, who are seeking a romantic and recreational resort surrounded by overwhelming nature. No wonder why Whulan and her fiancee chose this wonderful place to get married.
The evening before the wedding, the bridal couple invited its guests to a welcome dinner in white. Dress code casual. Luckily, I knew from last year's wedding in Malaysia that by "casual" most  Asians understand "chic" or what I would call "sporty-elegant" or even just elegant. The dinner atmosphere was enchanting and the food was delicious, too. Finally, I had the chance to eat my beloved "Rendang" again. A traditional dish, prepared with slow-cooked meat in coconut milk. By the way, "Rendang" has been elected this year's world's best dish by CNN Travel once again.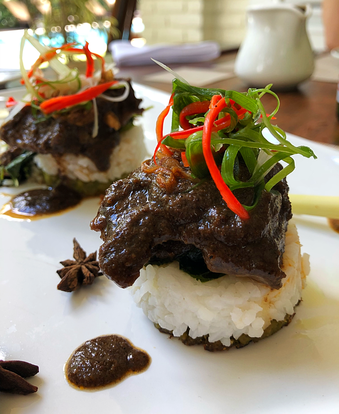 That evening the well-known jetlag started to cause problems: fatigue. My body began to feel the twelve hour time difference to Miami. Unfortunately, I had to leave the party around midnight to get some rest. One has to bear in mind that we had to wake up at 5 A.M. the next day. This early wake-up call was necessary if we, the bridesmaids, wanted to be prepared for the religious wedding in the morning. At first, we had an appointment at the hair stylist for our traditional hairstyle. Afterward, we got our make-up done and changed into our customized, turquoise kimonos so we could take pictures with the stunning bride in her suite. This first wedding of the two was only accessible for family and close friends. 
The ceremony was full of traditions. Matching to our Javanese hairstyle, we were wearing traditional costumes. Our outfit included a sarong which is a colorful printed cloth worn like a skirt and made out of shiny fabric. As a top, we dressed in a kebaya, a peach-colored long-sleeve top, decorated with a crystal embellished, fancy pin.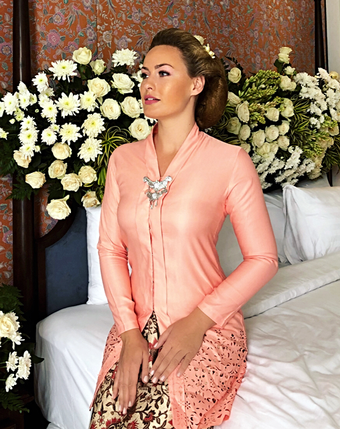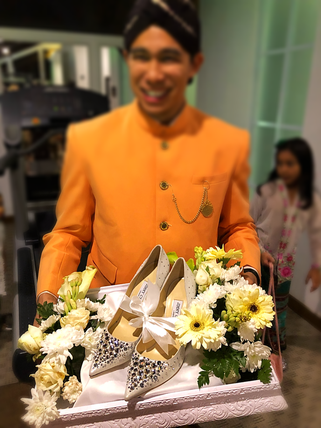 Together with the groomsmen, it was our duty to carry in the very upscale wedding gifts of the family and line up in a row behind the bridal couple. 
An amazing experience to attend and to be part of such a cultural feast. However, since I've been guest to several weddings before, I encountered some differences to others, for instance, the wedding band. Whereas in my culture it is common to receive a diamond ring for the engagement, it is the other way around in Indonesia and Malaysia. The diamond ring is given to the bride for the wedding whereas the "wedding band" is used for engaging with the bride-to-be.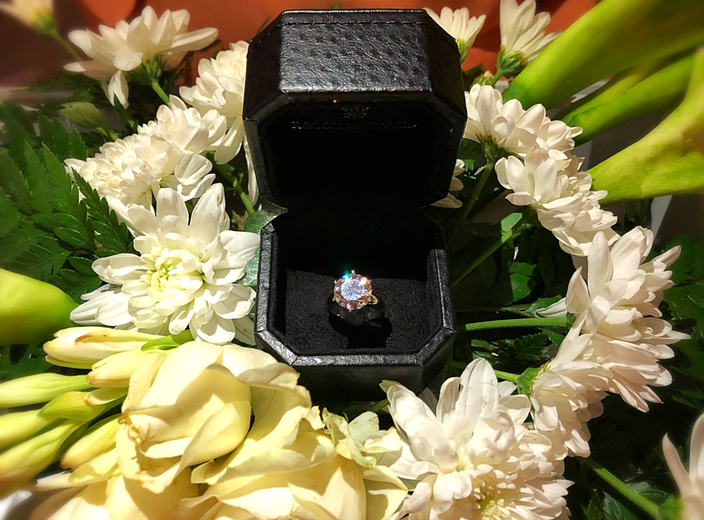 Whulan's dress was handmade. Her crown-like jewelry on her head, decorated with real blossoms and dazzling crystals, reminded me of an exotic Queen. She looked stunningly beautiful. In a Muslim ceremony accompanied by a lot of recitatives, the bridal couple got finally married.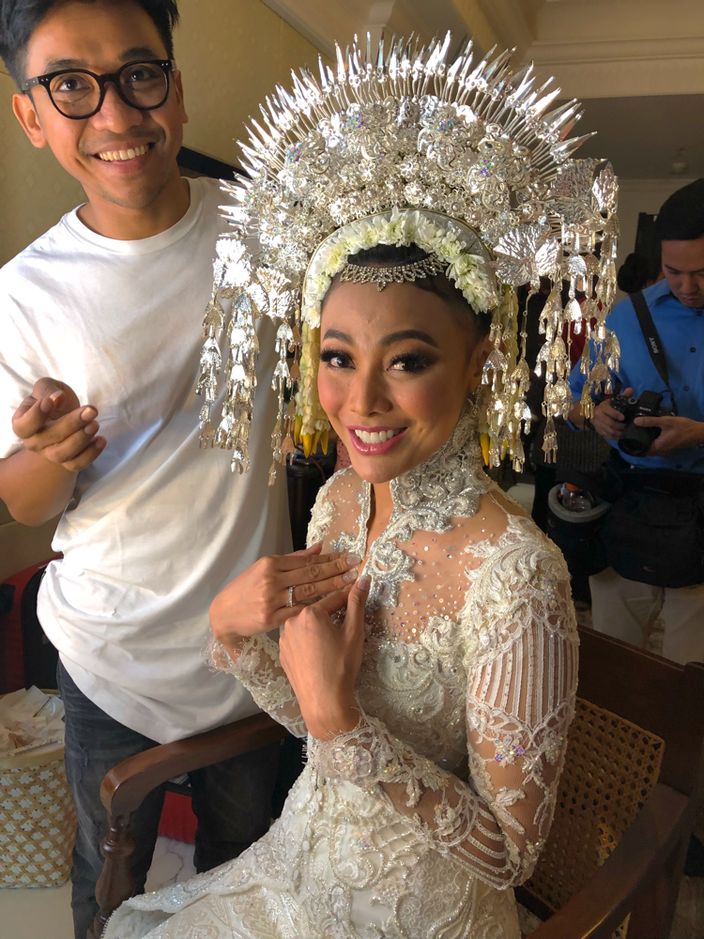 The second ceremony took place in the evening. Here all guests were invited to join the feast. For this "international" wedding she changed into another marvelous gown, designed according to her wishes.
A voulimnous white bow defined her back. 
The bridesmaids were dressed in a navy blue wrap dress which we received as a gift from her. Matching to the dress Whulan gave us jewelry in a beautifully and meticulously packed gift box.
Her care and effort to make everyone feel comfortable was very touching. One has to keep in mind that she was dealing with an enormous number of wedding guests, the preparations of her big day and the pressure to fulfill her family's expectations as well as her own.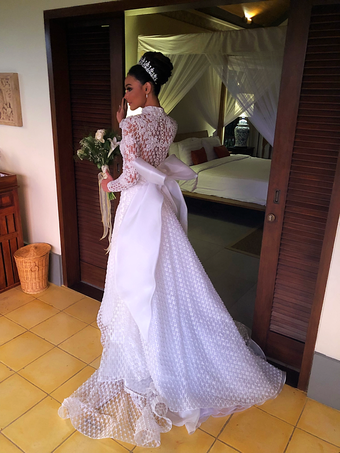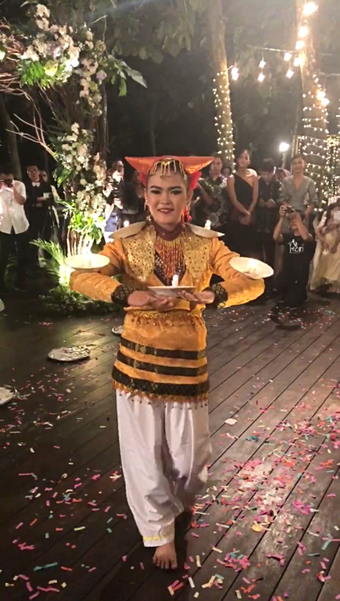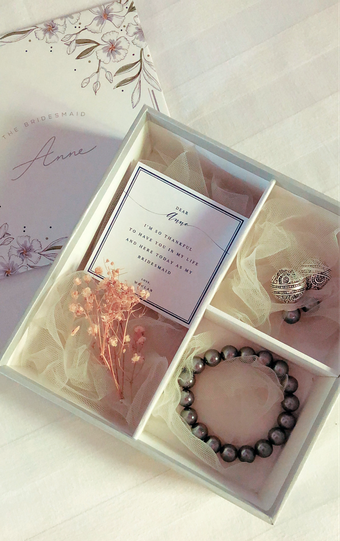 Now it was our role to escort the newlyweds to the wedding party for the "international" ceremony. There we experienced a spectacular traditional performance from local dancers to honor the bride and the groom. The artists, who were dressed in magnificent garments, jumped on pieces of broken china and danced with candles covering their jackets. The ritual of smashing china is also common in traditions from other cultures, for instance, the German "Polterabend" where the guests throw old porcelain cups and plates on the floor which is believed to bring luck. Besides, it is a fun thing to do. 
Shortly after, we followed the bridal couple to their seats located on a gallery. I felt honored to sit at this table, too. After several speeches, the atmosphere became sparkling and vibrant. The buffet was open, and the guests indulged the superb Padang cuisine from Whulan's birthplace. People started dancing, a well-known live-act named Francis performed greatest hits, and the final highlight was dozens of sky lanterns which were lightened by groups of two or more and then rose into the magical night.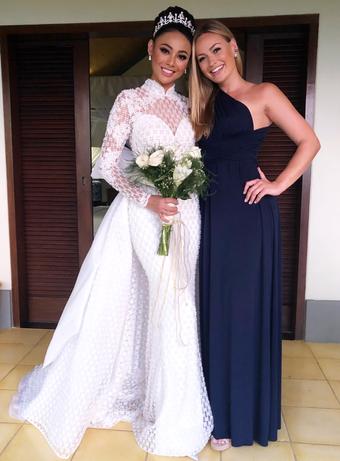 Summing up, Whulan's and Nikki's wedding was a dreamlike, inspiring and exhilarating experience. I'm both thankful and honored to have been part of it. Getting to know and learn about different countries, their people and culture has always fascinated me.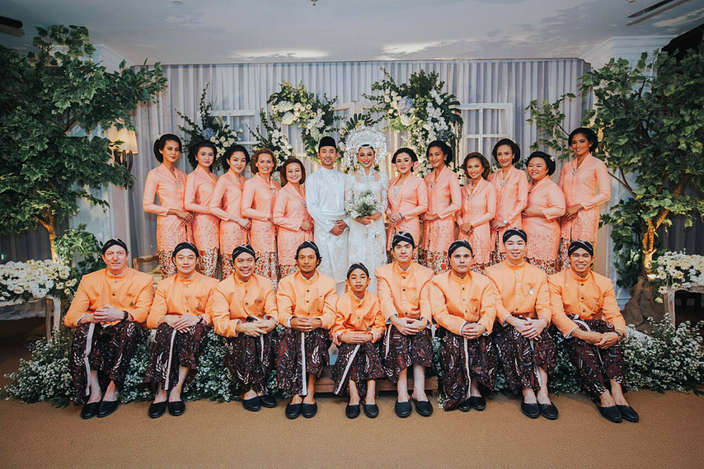 Thank you Whulan for introducing me into yours!