This is one of my favorite "street food". Sure, it needs some preparation time but once it comes to serving, it's super quick, delicious and actually not too unhealthy. Just make sure to buy organic meat and fresh ingredients, so you can avoid preservatives and other chemicals that slow down your metabolism.
Let me know how you like it!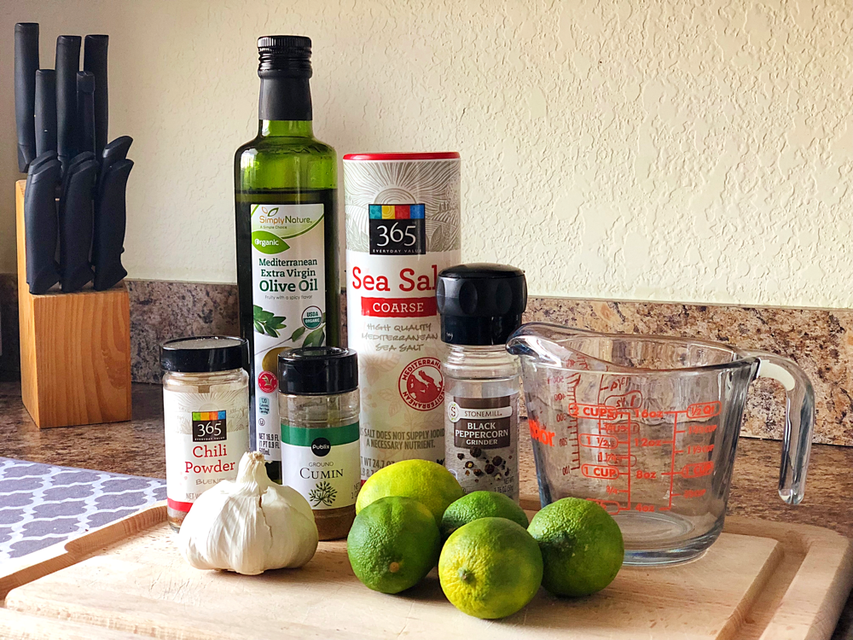 Ingredients
1 pack skinless boneless chicken thighs 
1/4 cup fresh lime juice
1/4 cup olive oil
2 tsp ground cumin powder
1 tsp chili powder or Siracha sauce 
6 garlic cloves smashed
Freshly ground pepper
Salt
For serving
Mini corn tacos
1 Avocado, cored, sliced 
Cilantro
Lime wedges
Mexican cheese blend 
Sour cream
Instructions
Whisk together the smashed garlic, freshly squeezed lime juice, olive oil, chili and ground cumin in a small bowl or measurement cup. Add a little salt and pepper to your taste.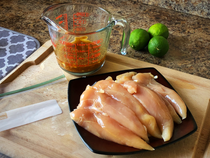 Take a resealable storage bag and put the washed chicken thighs into the plastic bag. Then fill in the prepared marinade.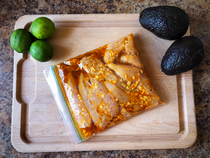 Release the air out of the bag and close it. Now try to "massage" the marinade into the meat. Let this sit for up to 6 hours in your fridge but at least 2 hours. The longer you let it sit, the better will be the taste.
Take the chicken thighs out of the bag and put them on a grill/kitchen grill or grill pan. The cook time depends on the size of the individual chicken thigh. Make sure to not over cook them so they will stay juicy. Estimated time would be 7 minutes.
Cut the nicely grilled chicken into little cubes after you have let them sit for 5 minutes under plastic wrap.
In the meantime, prepare the soft corn tacos. Take a small pan and heat up the tacos carefully. They burn fast! Keep them wrapped in aluminum until serving so they stay warm.
Take the avocado and cut slices. The lime needs to be cut into wedges.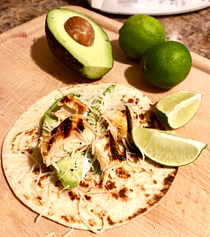 Take a small taco, add two slices of avocado on a teaspoon of sour cream in the center of the taco and place a few chicken cubes on top. Sprinkle everything with the Mexican cheese blend and add the fresh ground pepper and salt. Don't forget to squeeze one of the lime wedges
over the whole taco. If you like, you can add some cilantro as well. Fold the taco and you are ready to eat!
Guten Appetit!